UPDATE, 9/12/19: According to Townhall, on September 15th, Maine's assisted suicide bill will go into effect, so that "patients who no longer want to live due to a variety of reasons will now have the legal option of killing themselves with the approval of a doctor." Kristen Hanson of the Patients Rights Action Fund told Townhall that the bill will incentivize death over medical treatment. "It is a lot cheaper to cover medication that causes a quick death, than costly quality care," she said. "The most vulnerable members of society deserve better."
6/16/19: On June 12th, Maine Governor Janet Mills signed a bill legalizing assisted suicide. Maine is the eighth state to legalize a doctor-ordered lethal dose of pain medication for select patients who request it. Similar measures were previously brought up no less than seven times in Maine's state Legislature and once as a statewide referendum — the process of allowing voters to decide whether a law that has passed in the Legislature gets upheld or repealed — but each time they failed. Gov. Mills said, "It is my hope that this law, while respecting the right to personal liberty, will be used sparingly." Given the trends of other states, this seems unlikely.
Maine joins California, Colorado, Washington, DC, Hawaii , New Jersey, Oregon, Vermont, and Washington (Montana does not have a law on the books, but a Supreme Court ruling in 2009 essentially allows for it) in legalizing the practice, with similar measures being considered in Arizona, Delaware, Indiana, Iowa, Kansas, Massachusetts, North Carolina, Rhode Island, Utah, and New York. New York is considered likely to vote before the end of this legislative session, in the next week and a half.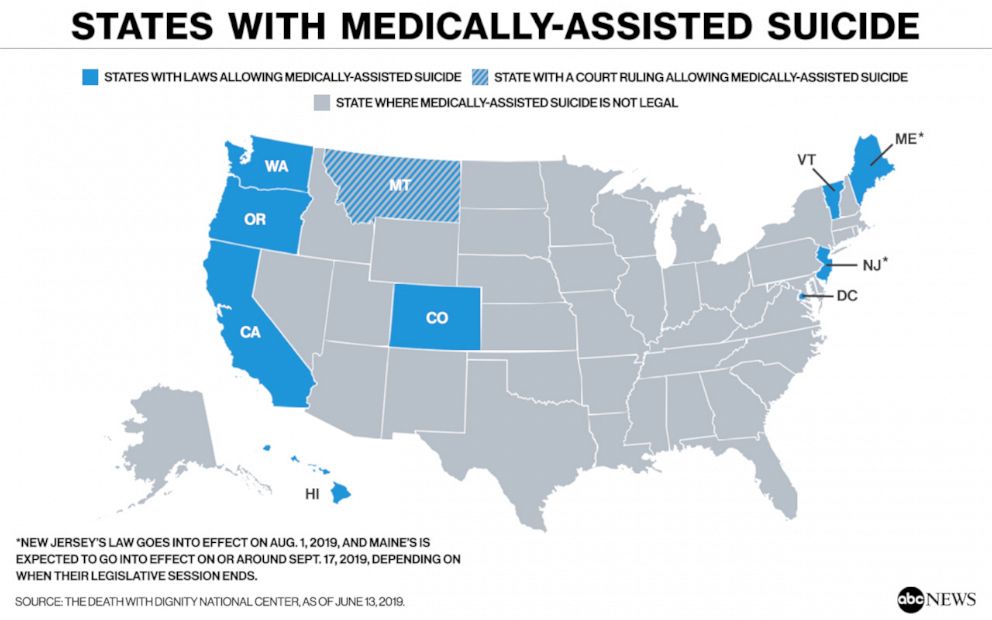 READ: Dialysis patients fear effects of California assisted suicide
The law is supposed to apply only to patients considered "terminally ill," i.e. those having an illness that is incurable and likely to cause death in the next six months, even though many people have outlived medical estimates by months or years. Furthermore, a previous report on Oregon's assisted suicide law found a loophole stating that being unable to pay for life-saving treatment could make a patient's condition legally "incurable" in that state. Does Maine have such a loophole? Time will tell.
In addition, the law isn't supposed to apply to patients suffering from depression, which can cloud judgment. Sadly, a 2007 study done in Oregon, which legalized assisted suicide in 1997, found that none of the 47 patients who died by swallowing a lethal dose of pain medicine that year were evaluated for depression by a psychologist or psychiatrist.
Critics of assisted suicide laws worry that patients with life-limiting, incurable diseases will be seen as a financial drain on society. They have reason to fear, as patients in Oregon and California have already been told that chemotherapy and other potentially helpful medications would not be medically covered, but pills to end their lives would be.
What's more, research suggests that the whole rationale for assisted suicide, the alleviation of unbearable pain, is a sham. Corinne Carey, an employee of the euphemistically-named Compassion & Choices (a euthanasia advocacy organization which led the campaigns to legalize assisted suicide in both New Jersey and New York), argues that assisted suicide is necessary because being able to die this way "could mean the difference between unbearable suffering and having the peace of mind to know that (the sick person) can die a peaceful death." Rather than citing pain, a study in the New England Journal of Medicine claims people primarily seek assisted suicide because of 1) loss of autonomy due to their illness 2) fear of being a burden on others, especially family or 3) fear of no longer being able to enjoy life due to their illness, i.e. untreated or inadequately treated depression.
Sickeningly, assisted suicide laws target vulnerable populations already at-risk for receiving inferior care: the poor, the depressed or otherwise mentally ill, the elderly, the disabled. Assisted suicide communicates to these people that suicide is unacceptable, except in their cases, because they are a burden.
Maine's new law comes mere days after the death of a 17 year old Dutch girl from anorexia following sexual assault and rape. Her story made headlines because assisted suicide is legal in the Netherlands, though her request for euthanasia was reportedly refused. Responding to her story, Pope Francis tweeted, "Euthanasia and assisted suicide are a defeat for all. We are called never to abandon those who are suffering, never giving up but caring and loving to restore hope."
"Like" Live Action News on Facebook for more pro-life news and commentary!