After passing through the Georgia Senate, S.B. 438, which would stop the state from paying for abortions in its government-employee insurance plan, has been halted in the House Insurance Committee. But this time, it's not the Democrats who are fighting this pro-life legislation. It's the Republicans. While the Democrats would put up a loud fuss in their opposition, these House Republicans seem to prefer to kill the bill secretly and quietly.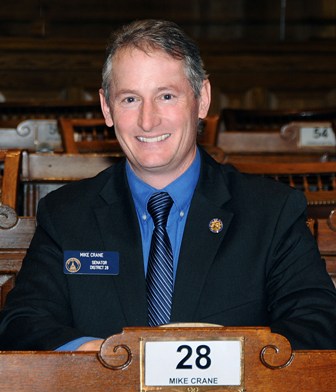 For Senator Mike Crane (R-Newnan), the bill represents an ambitious effort for a freshman legislator, but it won the favor of the majority of his GOP colleagues in the Senate. Now that the bill is in the House Insurance Committee, he's found a wall in the person of Speaker of the House David Ralston (R-Blue Ridge), who appears to be working behind the scenes to stop the bill from ever getting voted out of committee. Georgia has 40 days in its legislative calendar, and there are only three days remaining. If the bill does not reach the full House for a vote by the 40th day, it will die silently in committee.
Speaker Ralston has intimated to the members of the House Republican Caucus that there would be only one abortion bill considered each legislative session in the Georgia General Assembly, and that bill this year was the fetal pain bill, which passed out of the House several weeks ago. Dan Becker of Georgia Right to Life (GRTL) replied that no abortion bills have been considered for the last several sessions since Ralston became Speaker. So isn't the Georgia legislature due for some catch-up?
Supporters of the Speaker's position complain that abortion legislation bogs the House down too long in debate, preventing other things from being addressed. When S.B. 438 came up for a hearing in the Senate, Democrats put up a fuss about it that lasted about 80 minutes.
But is plugging the ears for a chorus of bellyaching from the Democrats for just a little over an hour such a high price to pay to end this subsidization of murder? During the last three years, Georgia has paid an average of over a quarter of a million dollars per year to perform hundreds of abortions. According to the Georgia Department of Community Health, in 2009 alone, the state performed 549 abortions and paid out $343,728. In the last three years, over 1,350 abortions have been paid for with state tax dollars through this program.
Only 16 states in total – so far – have placed any kind of restrictions on state health benefit plans for abortion (Arizona, Colorado, Illinois, Kansas, Kentucky, Massachusetts, Mississippi, Missouri, Nebraska, North Dakota, Ohio, Pennsylvania, Rhode Island, South Carolina, and Virginia). Two of these states (Colorado and Kentucky) have gone all the way in addressing this subsidization of abortion. Like Georgia's proposal, these two states do not make exceptions for restrictions based on rape, "life-endangerment," incest, or the like. But since hearing of Georgia's proposal, more states such as Alabama have also taken steps to cut abortion from their state health care plans.
Meanwhile back in Georgia, the media of the state have been doing their best to frame the debate over the bill in favor of the female Democrats who have been opposing it. Both Georgia's Channel 2 and Channel 11 have done reports on how many of these lady legislators have spoke against the bill, claiming that it impeded women's reproductive rights. These reports have included interviews with these ladies, but not with the sponsor of the bill, Senator Mike Crane, or any of the bill's other supporters.
If state Republicans lack the spine to resist being pushed over by these liberals and their media cohorts, then perhaps it is time for them to be replaced by men of stronger conviction. Already, Georgia Right to Life has announced that it will be targeting several Republican state representatives (including possibly the Speaker) for being weak-kneed on pro-life issues. GRTL President Dan Becker is working with others at the Peach Tea Party organization to target a number of races this coming election year and filter out some of the "RINOs" (Republicans In Name Only). Conservative talk show host Adam McManus of San Antonio suggests that even calling them "RINOs" is too kind. He prefers to call them "DORCs" (Democrats Opting for Republican Clothing), and perhaps that would be a more suitable acronym.
As troubling as it is when liberals put up a resistance to pro-life legislation, it's far more outrageous when the opposition comes from Republicans who claim to be "pro-life." Republicans "just following the orders" of their Speaker. Republicans who can't stomach some bellyaching from the Democrats. Republicans more concerned about their careers than they are about the lives of the unborn.
If you are a resident of Georgia, you can call Speaker David Ralston and Rep. Richard Smith (R-Columbus) and urge them to allow S.B. 438 to come before the House for a vote!
You can call Rep. Richard Smith at 404-656-6831 and Speaker David Ralston at 404-656-5020.
When calling, it is usually helpful to tell them your name, where you are from, and that you support S.B. 438, and then to ask them to allow the bill to be voted on in the Insurance Committee and before the full House.
Thank you!